student surrealist art exhibit, 2020 hillsborough county
Irrational Technology: From the Ridiculous to the Sublime
Initiated in 1992, this annual art exhibit presents work by middle and high school students whom we invite to explore ideas and visions similar to those explored by Salvador Dalí and the surrealists. The 2020 theme is "Irrational Technology."
Dalí is renowned for his curiosity and appetite for invention. Science was a lifelong interest of his, and he was inspired by the technology that could challenge perceived reality. We can see this influence in his art, particularly during his Nuclear Mysticism period (1950-58).
For the 2020 Student Surrealist Art Exhibit, we challenged students to explore surreal ideas about technology. Students may consider the absurdities of technology, the possible benefits and consequences of our fascination for technology, surreal technologies of their own, or an irrational world shaped by its technology.
middle school
Alphabetical order by school
(Click images to enlarge)
---
Doll House
Mixed media
Bell Creek Academy
Grade: 8
Teacher: Ryan McNally
"I drew this because I thought it would be ironic/irrational to use a piece of technology with hands. I also included things I don't really enjoy like "blood," sharp objects, and dolls. I used scale, juxtaposition, and dislocation to accentuate those things."
---
Alexis Georgiev
Girl with Cables
Graphite, watercolor & Sharpie
Bell Creek Academy
Grade: 7
Teacher: Ryan McNally
"While brain-storming for the project, I was thinking about other artwork that I've seen to gain ideas. Finally, I decided that I would want to draw a woman with cables emerging from her mouth to show that technology consumes you. The cables also represent the need for electronics since they're charging the woman (2 of them are)."
---
Natalie Miller
Recreation of Adam
Mixed media
Ben Hills Middle School
Grade: 6
Teacher: Alicia Valdes
"The inspiration for this piece was The Creation of Adam by Michelangelo. Recreating his work was a perfect way to display how mankind was always reaching to achieve our next evolution. Many of Salvador Dalí's paintings display similar themes through his style of surrealism. All artwork means something, but it's hard to understand when the theme is presented in a way different than what we are used to seeing. So I wish for others to understand the theme with a full comprehension. It showed me how many surrealistic techniques there are, which fascinated me. Because this painting is so familiar, the robot hand stands out and creates a difference from the original painting. But truly, I want whoever reads this to know the value of a full comprehension of art."
---
Kayla Strocchio
Transmogrify
Colored pencil
Benito Middle School
Grade: 7
Teacher: Cheyanne Causby
What inspired me to make this piece was how much I've changed in the last few years. This artwork communicates the growth and strength that I hold now, like a tree. Surrealism is my favorite type of art, so I was very excited to create this and was inspired by a mixture of artworks that I have seen. This artwork fits in with a lot of my other work because I mostly use colored pencils. My vision for this piece was for at least one viewer to be positively affected by it and learn from what I am trying to express from this drawing.
---
Bryan Leon-Chavez
Inside of My Mind
Marker & fineliner
Beth Shields Middle School
Grade: 7
Teacher: Juan Duarte
"This artwork is an interpretation of how my mind works. The centipede is my negative thoughts. The figure is an interpretation of me with my love for video games. The background is the meaning of me versus the big world. My mind is a happy place."
---
Kassandra DuPont
Technicolor Cavity
Colored pencil, gel pen & pencil
Burns Middle School
Grade: 8
Teacher: Pam Reeves
"'Technicolor Cavity' represents irrational technology. I have a levitating box TV made of wood in the sky. The TV has static that flows into a colorful slurpee. When people have access to technology they're distracted and unaware of what's going on. I symbolized feeding off of technology. The clouds represent the phrase 'in the clouds'–being ignorant or unaware of events. We don't realize the effects of technology. My cup says stop because some studies consider technology an addiction. We feed off of technology on irrational levels, and people don't understand what they're consuming."
---
Sofia Lopez
Decomposed
Colored pencil
Burns Middle School
Grade: 8
Teacher: Pam Reeves
"Imagining how the humans of the future would be was what motivated me to do this work. Where I imagined hybrid machines and humans as part of a world with very advanced technology. Now it may seem surreal to us, but I think that in the future it could be something very common."
---
Courtney Nguyen
Destruction
Marker, gel pen & watercolor
Burns Middle School
Grade: 8
Teacher: Pam Reeves
"In my piece I wanted to represent technology as ruin, trash and pollution. I used surrealist elements such as scale, displacement, juxtaposition and levitation. Examples of scale would be how certain objects like a washing machine or traffic light are bigger than the boy on the bike. The boy represents the past, hence him on a bike with a crate of milk, mimicking milk boys in the 1900s. This is an example of displacement. The lightbulb has a cord that leads up to nowhere, levitating. I chose to draw this because I fear one day humanity will only work on fixing our personal problems rather than focusing on major problems such as the ruin on our planet."
---
HONORABLE MENTION
Gianna Untied-Leonard
Untitled
Colored pencil
Burns Middle School
Grade: 8
Teacher: Pam Reeves
"The inspiration of my piece was based around humanity's over-dependence on technology. The picture depicts a group of monster-like creatures reaching out towards a light bulb in the dark. This represents our society reaching out for technology but as we reach out, we lose sight of who we are in the process. I feel the piece comes off as a strange and dreamlike. I made this from Prismacolors and my surrealistic technique was levitation."
---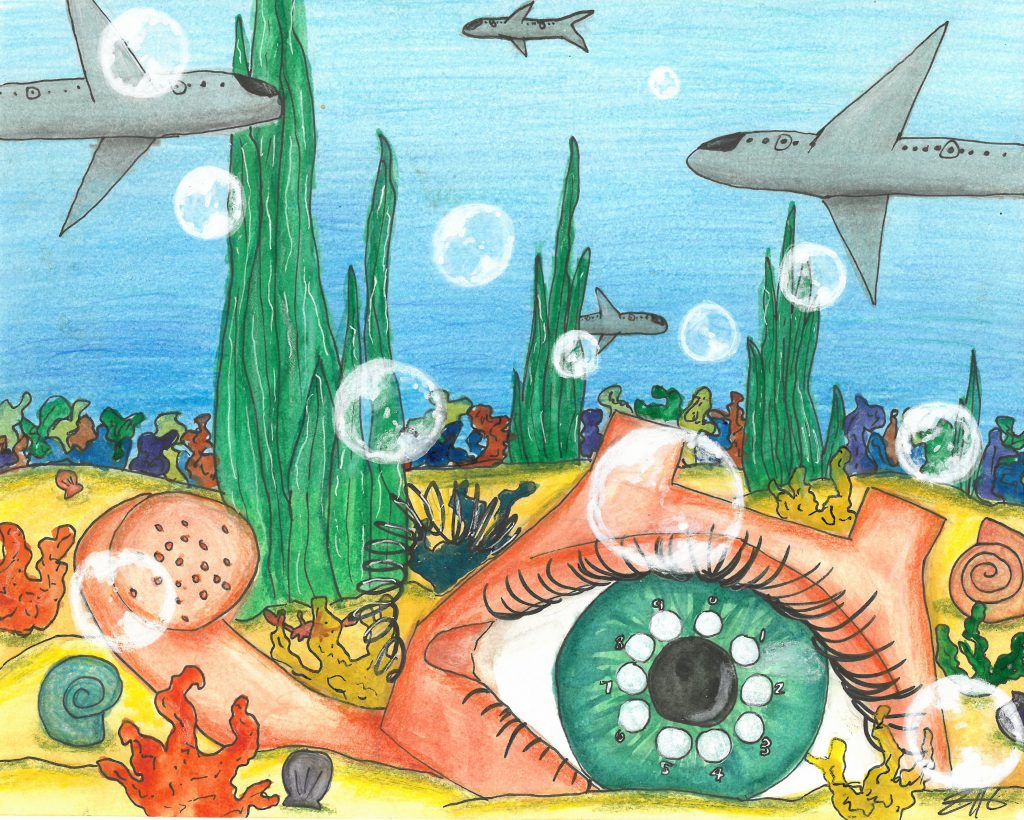 Zoe Gossett
Pollution
Mixed media
Coleman Middle School
Grade: 8
Teacher: Tobey Sonenberg
"Salvador Dalí's Lobster Phone inspired me to step out of my comfort zone and push myself to explore subject matter. The theme influenced me by making me think about technology in a whole new way. I researched how much phones have changed and loved the look of rotary phones. I used juxtaposition with the eye, phone, and planes. I used dislocation by putting them underwater. I transformed the iris as the dial and I also used scale."
---
Sydney Nichols
Reversed Role
Mixed media
Coleman Middle School
Grade: 8
Teacher: Tobey Sonenberg
"My inspiration for this piece originated from the short story 'The Pedestrian' by Ray Bradbury. It takes place in a futuristic setting where everyone is consumed by technology and glued to a screen. My art shows people's eyes reflecting from the screen and watching the world become anti-social. I used watercolors, paint, pen and pencils to transform the eye into static as well as juxtaposing the objects."
---
Selah Marks
The Age of Humanization
Chalk pastel, colored pencil & charcoal
Davidsen Middle School
Grade: 8
Teacher: Vanessa Smith
"I created this piece to display the humanization of technology. Inspired by Alexa, Amazon's home device, I showed an android-like creation being given a human brain and emotions. Alexa obviously simply responds to its name being called and such, but the idea sparked from thinking about what could happen in the distant future."
---
AWARD of EXCELLENCE
Anton Ozhered
Human Nature
Ink pen & alcohol-based marker
Davidsen Middle School
Grade: 8
Teacher: Vanessa Smith
"This work doesn't show a kind of technology that is irrational, it shows that technology itself is somewhat irrational. The man in the bottom left corner is laying in oil surrounded by forms of art, sports, and real world entertainment, not caring about it because the virtual world is 'much more interesting.' The top right corner conveys that some technology ruins the environment. The road and car signify that once we started using fossil fuel for gas it became a never-ending cycle of polluting the atmosphere. The fish head symbolizes how pollution kills marine animals. The biggest inspirations were Hayao Miazaki's Spirited Away, Howl's Moving Castle," and Disney's Wall-E because they share a lot of similar themes, plus steampunk for the design inspiration."
---
Owen Saperstein
Connections to Steampunk
Colored pencil, pen & marker
Davidsen Middle School
Grade: 8
Teacher: Vanessa Smith
"The man is half steampunk because he lost part of his senses and is using technology to recover. The darkness around him is his worry at the fact that his robot half might have a mind of its own."
---
Violet Durango
Broken Lens
Pencil & alcohol-based marker
Farnell Middle School
Grade: 8
Teacher: Melanie Schlicter
"I was inspired by the art of photography. Some say to photographers, 'Wow! You've got a good eye' when they take a great picture of something. This artwork is important to me because I love to take photos of the outside world. My art is surreal because you don't usually see a human's eye attached to a camera. The eye is supposed to represent the lens of the camera. I want the viewer to know that you don't have to have a good eye to achieve anything. It is the effort and practice you put into it."
---
AWARD of EXCELLENCE
Cindy Vu
Staggering Semblances
Acrylic paint
Farnell Middle School
Grade: 8
Teacher: Melanie Schlicter
"To me, technology is defined as any tool or method that improves a function. With that in mind, mankind has created and discovered technologies since our start. It's practically in our DNA. I wanted to explore that idea with nature and technology, two supposedly juxtaposing forces. The stag and the electrical plug are one of the same, being intertwined with each other."
---
Gabrielle Watanabe
Bunnies on Wheels
Alcohol-based marker
Farnell Middle School
Grade: 8
Teacher: Melanie Schlicter
"Is it the technology that's irrational or is it us? The bunnies are isolated, each on their own wheels, but connected through their carrot phones. But if they put down their phones, what could they do instead? Instead of running around on the grass wheels, only focused on their phones, they could find other ways to connect. But without technology, we wouldn't be as connected, represented by the single lone bunny who isn't on their phone."
---
AWARD of MERIT
Sumeya Al-Baissam
Out with the Old In with the New
Watercolor & pen
Jennings Middle School
Grade: 8
Teacher: Zuleyma Davila
"I started this piece thinking of how fast we change when something better comes out. I chose Pacman because he is a good example of an old game that everyone used to play. But now there are new games out–it's forgotten about."
---
Sophie Moore
Technically, It's Technology
Mixed media
Liberty Middle School
Grade: 6
Teacher: Lesley Wheatley
"This piece was trying to symbolize the connection between organic substance and mechanics/technology. Some sections show the intensity of technology through color and tone. The proportion of the TVs to the canine shows the amount of importance we should place in our degrading environmental status. I also addressed android dogs in the replacement of the jaw and neck with metallic materials. The random objects around the main subject represent the multiple technological that continuously appear."
AWARD of MERIT
Christina Banaszak
No Signal
Mixed media
Madison Middle School
Grade: 8
Teacher: Anthony Ettienne Modeste
"I created this piece as a way to open my mind to surrealist art, which I have recently started to draw more often. My inspiration was the many people who like to draw TVs in the place of heads for their characters. I thought that using that idea in a different or altered way would be good. My goal in this project was to learn more about surrealism. I learned when making this piece that you should stop once you have added all you were supposed to and think before you add something that is big to your piece."
---
Emalyna Martinez
The Assembly
Mixed media
Madison Middle School
Grade: 8
Teacher: Anthony Ettienne Modeste
"My surreal art project was inspired by my own thoughts. I wanted to do something different instead of doing a TV head or what you think when you hear technology, so I decided to do a peacock transformed with a mandolin. The exhibit's theme influenced me to think of something original. My methods were stippling, crosshatching, and blending. I learned how to be out of my comfort zone and explore imagery. What makes my work surreal is that I used transformation because the mandolin is the body of the peacock and on each feather is a speaker. What I want the viewer to know is that there are little speakers and that the peacock is on stage, so that it relates to technology instead of something completely acoustic."
---
Daniella Costa
The Art of Song
Watercolor, colored pencil & gel pen
Martinez Middle School
Grade: 8
Teacher: Lori Deitz
"In my piece, I was inspired by music. Though my life is disorganized and stressful at times, music cures most of it. Musicals and Broadway are my favorites to listen to. When I put my earbuds in, a lot of my stress floats away, which is why I chose to use levitation and watercolors to create the effect of blurriness and the room fading out behind the girl."
---
Colton Rivera
No, No, No Stop
Marker
Martinez Middle School
Grade: 7
Teacher: Lori Deitz
"People are becoming addicted to technology and sometimes seem to focus too strongly on social media and the rude or untrue comments that are made. We begin to lose tough with the real world and believe what others say about us online. Sometimes the comments others make affect us so dramatically it cuts us, and we change ourselves for social media and become those untruths. That's why I believe we shouldn't listen to what others say about us online."
---
Makayla Williams
Connected
Watercolor, marker & gel pen
Martinez Middle School
Grade: 8
Teacher: Lori Deitz
"People often believe technology makes us distant and isolated, but I believe it does the opposite. Technology connects us in ways that might not have been possible years ago. We can talk to people across the world, read news from all over and even see ballerinas dance across our screens. Technology is ingrained in our society and continues to benefit and connect us every day."
---
Brooke Barnes
Modern Romance
Colored pencil & pencil
Mulrennan Middle School
Grade: 8
Teacher: Holly Gaw
"The thing that inspired me most to create this picture was the exhibit's theme. I tried to convey that the 2 girls were in love but they refused to believe it. The technology was giving them so many signs that they were in love but they thought they were being irrational to think so. I used pencil and colored pencil. My art is surreal because there is levitation, transformation and dislocation."
---
Aryana Reyes
The Endeavor to Dissociate from Their Fixation In Which Ushers them to Quietus
Colored pencil & graphite pencil
Mulrennan Middle School
Grade: 8
Teacher: Holly Gaw
"The use of exaggeration of body parts, surrealism, and the feeling of being unsettled by images inspired me. The theme influenced me because the addiction to technology is quite unsettling. I myself also have this addiction to it. I created this with pencil and colored pencils. The surrealist techniques I used were levitation, transformation, and scale. Fight against your addictions."
---
Chloe Donahoo
The Persistence of Connection
Prismacolor pencil & paint marker
Orange Grove Middle Magnet
Grade: 8
Teacher: Hilda Muinos
"In my art, I used a dreamlike setting, dislocation and levitation. I wanted my piece to symbolize how people let the convenience of modern technology control their lives, maybe even if they don't realize it. This artwork is important to me because sometimes I feel like people are oblivious to how smartphones or the internet impact them in a negative way. I used split wires, a phone, a computer, and lightning to represent the connection of technology to people. I wanted my art to have a messy composition so it looked busy and cluttered like there was a lot happening at once. I want the viewer to almost feel overwhelmed, in a way. I think my work relates to the surrealistic theme as it is dystopian."
---
Venecia Garcia
Drowning Into Despair
Watercolor, colored pencil & ink
Orange Grove Middle Magnet
Grade: 7
Teacher: Hilda Muinos
"In this dystopian piece I depicted how cell phones (representing technology, the internet and social media) can take you apart, piece by piece leaving you feeling drained and dismembered. On social media people can begin to feel disconnected from themselves. I used levitation to show that feeling of mindless floating and helplessness."
---
HONORABLE MENTION
Sarina Leihy
Faulty Wiring
Acrylic paint
Roland Park K-8
Grade: 8
Teacher: Amanda Funk
"This artwork symbolizes the perceived beauty of the technological world with a violent undertone. The conveyer belt shipping out false hope, the appearance of the roses, and the girl help express this. The girl sits on a pile of broken vehicles and pours battery acid into her eye, forcing the media upon her. The cut rose stem connects to the same circuit as the scissors that damaged them to express the interconnectedness of nature and technology."
---
Chela Levy
The Instant Deformation of a Butterfly in Pixels
Mixed media
Orange Grove Middle Magnet
Grade: 7
Teacher: Hilda Muinos
"I created this piece to represent how the natural world is being consumed by technology. Also, to prove the point that nature and its inhabitants may soon become extinct if we continue to allow the planet to be swallowed by pixels. For this piece I used mainly Micron black liners and Copic markers. This drawing is inspired by my personal desire to maintain the steady balance of nature, and save it from destruction."
---
Leniyah Lovett
lov_err.wrks
Mixed media
Roland Park K-8
Grade: 8
Teacher: Amanda Funk
"My piece was inspired by the Windows 98 format, which weaves along with the theme of irrational technology. I feel like I connect to this piece since I sometimes think about too much, and it tears me apart or I just feel like breaking down, and which the viewer should know that everyone experiences this feeling. A method I used was blending and stippling. I learned how to blend with brushes."
---
Lila Philage
Myocardial Infraction
Graphite, gel pen, fineliner & multiliner
Roland Park K-8
Grade: 8
Teacher: Amanda Funk
"I was inspired by my family and other artists like Salvador Dalí. I used deep meanings within an abstract visual to represent this year's theme. 'Irrational Technology' influenced me to have a meaning about the medical industry, since a lot of my family work in the medical industry. My piece represents the problems within the medical industry by emphasizing a train on a fragile bridge, foreshadowing the death of a patient."
---
Haley Petry
Grapplings of a Mongoose
Graphite
Tomlin Middle School
Grade: 8
Teacher: Ric Edgemon
"I decided to draw a mongoose because I've drawn other animals like cats and dogs but wanted to try something new. I have always loved ferrets, so a mongoose being so similar was an obvious choice. The grappling hook idea came about from a recent video game, Zelda, I played where the character used a similar grappling hook. I thought I would substitute the grappling hook for the animal's claws. The object in the upper left is also inspiration from gaming and alludes to the control we have over animals."
---
Angel Mera
Worm Hole
Pen & marker
Wilson Middle School
Grade: 8
Teacher: Shannon Machina
"After referencing the art style of Surrealism, I decided to explore themes that often inspire my artwork: outer space, my mind, and the existence of aliens. These are common items included in my work that I wanted to elaborate on. I illustrated a worm hole that represents my mind and thinking process. I have an unusual mind and unusual thought patterns that I often do not understand. But using art and the element of line specifically, I am able to illustrate a beauty to my chaos."
---
Drew Thorpe
Hooked
Mixed media
Wilson Middle School
Grade: 8
Teacher: Shannon Machina
"I created this piece after illustrating a representative image from The Giver–hence the lack of color. I feel like the image represents the painful and turbulent creative process. As an artist, I am often the most critical of my work, which makes it difficult to truly enjoy your piece and having that enjoyment ruined by noticing slight imperfections and going back to square one."
---
high school
Alphabetical order by school
(Click images to enlarge)
Nadia Assidy
Digital Synapse
Gel pen & graphite pencil
Alonso High School
Grade: 12
Teacher: David Smith
"While designing this piece, I was inspired by various parts of technology that allow different devices to work and the beauty of natural art, the human body. In order to start this piece, I wanted to choose parts of the human body that represent power and are necessary for human function, which include the brain, heart, and lungs. Within this piece, I wanted to incorporate my idea of how technology is becoming a part of us, almost like a body part. With this, I combined the parts of human anatomy with different plugs, geometric shapes, and circuitboard pieces. These different parts of technology were used to replace parts of the human body such as veins, arteries, and nerves. By doing this, I was able to bring a realistic feature into a world of digital design."
---
Luke Birmingham
Vision In Utopia
Colored pencil
Alonso High School
Grade: 11
Teacher: Cristina Ruperto
"The theme of using irrational technology led me to the idea of creating a drawing that represented a dystopian society amongst televisions. In order to create the picture, the technique of linear perspective was used to direct the room of figures to a light source behind them. Vision in Utopia is shown as people with televisions for heads, being stationary in chairs while a figure stares at them in the distance."
---
Zuhe Costa
The Last Heartbeat
Prismacolor pencil & watercolor
Alonso High School
Grade: 9
Teacher: Shane Heath
"The idea of technology being part of our daily life inspired me, and the theme irrational technology made me think how toxic this can be. Today's society is so ignorant and blinded by a screen that they miss the beauty of the world around them. The surreal scale of the heart emphasizes the damage created and the humanity being taken away by all the electricity that it's affecting it."
---
Elizabeth Dnanaraj
Error 404
Mixed media
Alonso High School
Grade: 11
Teacher: Shane Heath
"Upon reading the theme, what immediately came to mind was the computer and cellphone because they have evolved incredibly quickly into essential parts of life. Because of this, I feel like technology seems to be spiraling out of control. We are unable to advance with these increasingly complex technologies and it's almost as though we (humans) are getting left behind. The technology breaking apart represents this disconnect."
---
AWARD of MERIT
Bianca Eugenio
Harmonized Chaos
Colored pencil, archival ink & gel pen
Alonso High School
Grade: 12
Teacher: Cristina Ruperto
"'I fear the day that technology will surpass our human interaction' – Albert Einstein – Upon hearing the exhibit's theme, the quote aforementioned by a rather prodigious intellectual was the first thing to pop into my head. A multitude of concepts manifested into my thoughts and while simultaneously trying to harmonize the chaos of ideas onto my phone, the app abruptly crashed, glitched out even. With this, I combined the two events into one piece."
---
Samantha Inman
Snake Charmer
Mixed media
Alonso High School
Grade: 9
Teacher: Shane Heath
"What inspired me to create this piece was the fact that humans have destroyed ecosystems, from that, I decided to do animals living in technological inherited habitats. The theme influenced me to make an animal that could be flexible. My connection to this piece is I hate seeing junkyards. My method was to go in sections. It's surreal because snakes don't live in wall sockets. The viewer should see that it's ominous."
---
AWARD of MERIT
Brian Lopez
Sullen City
Pen, archival ink & Sharpie
Alonso High School
Grade: 10
Teacher: Cristina Ruperto
"When we were assigned this project, we were given the theme of 'Irrational Technology.' The first thing that came to my mind was cars with legs and arms instead of wheels. This work can be subject to interpretation, but I believe this work to have no true meaning–probably because I didn't draw this with a meaning in mind. But if you can see a deeper meaning here, hey, more power to you I suppose."
---
HONORABLE MENTION
Elyse Marrero
Nature's Executor
Mixed media
Alonso High School
Grade: 12
Teacher: Shane Heath
"This composition is greatly inspired by a series of my original characters, their backgrounds and looks. Ra-Ra is a killer of nations (hence the large black sword with killer on it) fits for the theme. In this piece the fish are representing anger towards the 'human' who is using the help of technology to destroy nature, a place that technology should stay out of. She is crying because she regrets eliminating beautiful nature."
---
Shayla Pham
Tea from a Finger
Graphite pencil
Alonso High School
Grade: 9
Teacher: Cristina Ruperto
"The drawing I made was inspired by Salvador Dalí's surrealism art pieces. The theme of 'irrational technology' made me think of a technology many people use, and I thought of a tea kettle. In class, I was drawing a thumb on my notes and then drew a tea pot replacing the spout as a thumb. The technique I used in my drawing is juxtaposition. After finishing, I learned that contrast and composition are important in realistic settings."
---
Jamaris Ramos
Distraction
Mixed media
Alonso High School
Grade: 10
Teacher: David Smith
"Many of my peers are driving, and soon I'll be one of them. Usually they ignore the laws, even in school zones, and text and drive. I've seen parents do the same. Texting and driving is a teen killer, they get too distracted by their phones. An irrational technology obsession. Not being able to put the phone down can lead to you being put down 6 feet underground."
---
Aaralyn Thomas
Vision
Graphite pencil
Alonso High School
Grade: 9
Teacher: Cristina Ruperto
"Vision is a piece about the allure of propaganda, especially on television programs or electronic media. It's surreal because there are ghostly hands grabbing the person, symbolizing the 'allure' and his stance indicates he's embracing it. He does not, however, believe propaganda is necessarily a good thing, as shown by the cracks on the screen. It's merely an acknowledgement and curiosity about mass media."
---
Jack Vincent
The Nostalgic Eye
Digital photographer
Alonso High School
Grade: 10
Teacher: Bradley Watson
"This image was an eye seeing into the industrial era. This time brought many new beginnings. It's supposed to show a sense of nostalgia on the past, hence the tear. Although, the revolution brought great success it also brought great pain, that's why the tear is red. I have used eyes in artwork in the past. So, to add to the nostalgic theme I used the eye."
---
Hailey Campbell
The Desert at Dawn
Acrylic & tempera paint
Armwood High School
Grade: 11
Teacher: Greg Manley
"To me, this work is very simple. It strays pretty far from something that I would normally do. Which is good because I don't think that artists should limit themselves, as you can see the piece is questionable, which is why I leave it to anyone and everyone to interpret it however they want.
---
Yzabella Rodriguez
Dual Future
Digital art
Bell Creek Academy
Grade: 11
Teacher: Charles Cawley
"I was inspired by the good and bad effects of technology and wanted to express this in my drawing. I connect with this artwork because it represents how I view technology and I think takes a new approach on art that has a technology theme. I've seen many that show how society is addicted to technology but I don't think I've seen as many show the good of technology or the good and bad in one piece. There are positives and negatives to technology and that's what I want to express in my piece."
---
Gabriela Caldeira
The Manifestation of Code
Mirror, acrylic paint, & paint pen
Berkeley Preparatory School
Grade: 10
Teacher: Terrie Forester
"Through the process of creating this piece, the idea that stuck with me is how technology has infiltrated, whether we want it to or not, into our daily lives. By using watered down black paint, by dropping it over the side of the painting, I was unable to control the direction in which the paint obstructed the rest of the image, representing the lack of control we have over the technology we use in this day and age and the mannerism it has influenced our day-to-day lives."
---
Luis Almeida
Love the Music, Hate the Instrument
Digital art
Blake High School
Grade: 12
Teacher: Emma Chadler
"For the theme, I want to bring up technology from the past and the present. I mixed a boombox and my dog to reflect our attachment to technology. Both my dog and I face towards a phone covered in eyes, tentacles, and an abstract drawing of a woman on it to show negative effects of technology. The background is noise, blocking out things that aren't comfortable or pretty. Technology creates a love-hate relationship."
---
Ana Alvarado
Internet Me
Marker & watercolor
Blake High School
Grade: 11
Teacher: Molly Dressel
"In my piece I decided to show the impact of technology effects and changes people. People's obsession with technology and how it gets out of hand and often leads to an irrational or weird behavior, sometimes dangerous."
---
Kathryn Bell
In a Foreign Land
Acrylic paint & pen
Blake High School
Grade: 11
Teacher: Molly Dressel
"With my piece, the theme influenced me to explore how those alive in the early 1900s would view our use of technology; many would probably feel the seepage of technology into every aspect of life is odd and can make us become irrational. I used techniques such as displacement/dislocation, transformation, and a dreamlike setting to create the woman of wires transported to a world of the intricacies of technology, removing her from nature."
---
Briana Euers
Spaghetti Phone
Digital photograph
Blake High School
Grade: 11
Teacher: Linda Galgani
"My piece is a representation of how technology isn't as important as we want to believe. Nowadays everyone has a piece of technology stuck to them at all times and we forget the real qualities of life when it can get complicated and messy. I wanted a bowl of spaghetti to represent the struggles in our lives and the phone cord to be intertwined in the spaghetti to show how we have started to not know the difference between our realities and our dreams."
---
AWARD of EXCELLENCE
Evan Gatscher
Untitled #4
Pencil
Blake High School
Grade: 11
Teacher: Molly Dressel
"We live in a society where technology has a bigger role in our lives now than any other time ever. We rely on technology for almost all aspects of our lives. We give access to all of this to younger and younger people, most of the time to help out with the job of babysitting. My artwork delves into the fact that technology is irrationally being given for those too young. The baby I drew is wearing a suit, to symbolize being exposed to mature and inappropriate information and topics. The turkey symbolizes technology, and how it is changing they way they think and act–irrationally."
---
Helena Grey Ambrosio
The End To Be
Acrylic paint
Blake High School
Grade: 9
Teacher: Molly Dressel
"Throughout the history of humanity, people have spent an inordinate amount of time funneling creative energy into technology that fulfill our ambitions. When put in the hands of rabid beasts, that creativity often becomes destructive. At what point will tensions grow large enough to silence creativity, and will our own absurdity end with resurrection of life without man?"
---
Peyton Lawson
ERROR: Humanity Detected
Mixed media
Blake High School
Grade: 10
Teacher: Lenny Cabanero-Harvey
---
Samantha Parker
Untitled
Digital photography
Blake High School
Grade: 12
Teacher: Linda Galgani
"In my piece I wanted to display a glitch in simulation that is our life. This theory has gained popularity in pop culture due to its powerful believers like Elon Musk. I used bright colors transform the artwork a futuristic time piece. Also I displaced certain areas of the image and covered the empty space with computer coding to represent the deterioration of her surrounding digital world."
---
Izzy Robe
Cyborg Sisters
India ink & watercolor
Blake High School
Grade: 12
Teacher: Molly Dressel
"In my submission, I attempted to explore the theme of Irrational Technology by combining biology and technology. The two characters I created have see-through bodies and seem to be almost robotic. In this artwork, I wanted to unite my love of anatomy with my fascination for machines. I used India ink and watercolor for this artwork."
---
Dillon Currey
The Implications of a Singer Cellular Device
Colored pencil
Bloomingdale High School
Grade:
Teacher:
"The constant use of negative connotation when speaking about the effects of cell phones inspired me to take an opposing viewpoint. I did my piece representing the positive effects of a phone and how it has rooted itself in our lives, and through the phone the more ridiculous yet wonderful our world can seem. My use of transformation and transparency exemplifies the ridiculous and creative nature of the device. Every subject can be viewed from more than one angle."
---
Abigail Gonzalez
Anaerobic Layers
Acrylic paint
Brandon High School
Grade: 12
Teacher: Erin Mulvihill Luke
"In my piece, I aimed to display a more uncommon perspective on technology, normally when we think of technology, we think of how we use it in our daily life here on earth. In my piece the human figure is living with the lack of technology we now possess. The human figure still has life meaning, the terrestrial rules regarding technology don't apply to them. 'Anaerobic Layers' refers to the complex thing that is the human in an extraterrestrial setting (an undefined planet). This piece is about not only our stagnant view on technology, but also our view on reality."
---
Theodore Jonsson
Tag Along
Watercolor & pen
Brandon High School
Grade: 11
Teacher: Erin Mulvihill
"Things follow when I leave. The bad stalks me through the world. It sticks and clings to me in the home no matter where I am. I used to use the umbrella to protect me from the outside. It worked for years, keeping the bad and evil far far away. But nothing lasts forever."
---
Sydnee Kinart
Unraveling of Wired Students
Watercolor, Sharpie, ink pen & gel pen
Brandon High School
Grade: 10
Teacher: Erin Mulvihill Luke
"The piece centers around a classroom, where the teacher is asking if their students need any help. The peers are always listening and always watching but never speaking out, and the student at center has lost themselves to the point of no return. The Student has wires come undone and out of their head and a cracked neck from bearing the weight and pain of the wires. The Teacher's "6134" is their question to the class checking for their understanding. The Peer in either corner are wearing headphones (always listening) and a camera lens (always watching). The writing on the board is long and extensive math and physics equations and formulas. Due to the Student's busted wires they can no longer function causing them to be unable to process anything around them anymore."
---
AWARD of EXCELLENCE
Taylor Pogorilich
To Have a Purpose
Mixed media
Brooks DeBartolo Collegiate High School
Grade: 11
Teacher: Cookie Mitchell
"My piece was inspired by my dog, a golden retriever which was bred to catch waterfowl, their sole purpose to swim. Considering the contest theme about technology, I thought about how much of what we create has a single purpose, so I joined the biological with the machine to represent its coexistence. I thought about what a machine would be made to do hence the subject of my piece, a torn and damaged robotic dog whose only purpose is to swim and what that meant for the dog. The goal of this piece was to allow the viewer to feel a sense of wonder and concern for the strange canine; swimming infinitely in the middle of nowhere on a seemingly average day and why its purpose was to do so."
---
Tiffany Rose
Consumed by Technology and Social Media
Pen & Posca marker
Brooks DeBartolo Collegiate High School
Grade: 11
Teacher: Cookie Mitchell
"The piece was based off of how people are constantly hooked to technology, especially phones. We find ourselves always trying to follow the expectations of society on social media and listen to the negative comments and posts to change ourselves. This not only can give into the negative aspect of it, but also the unnecessary desire to get approval and popularity. One can see the effects of it as well as how everyone is constantly glued to the internet and technology."
---
AWARD of EXCELLENCE
Jennifer Fong Li
Resolute Stubbornness
Mixed media
Cambridge Christian School
Grade: 12
Teacher: Amy Dayton
---
AWARD of MERIT
Calvin Ortiz
The Altered Owl
Prismacolor pencil
Chamberlain High School
Grade: 12
Teacher: Jackie Stewart
---
Anna Babbitt
Grandmother Clock
Pen & marker
Durant High School
Grade: 10
Teacher: Aaron Bowers
"I aimed to show how people might merge with technology to function or live longer, perhaps replacing their body parts with unnatural things. Thus, my work depicts an old lady with clock parts, which is a combination that is unusual and creates surrealism. I took inspiration from Salvador Dalí's melting clocks and I used markers and pen to complete my piece."
---
AWARD of EXCELLENCE
Lauren Collier
The Alchemist
Watercolor
Durant High School
Grade: 10
Teacher: Emily Godheim
"My piece depicts a doctor inspired by those in the seventeenth century, fighting the bubonic plague. It's fascinating to me how far technologically we have come in just a few hundred years. Compared to the timeline of the history of our world, we have made waves in our advancements in the last few centuries. And in the same light, comparing today's methods with what we practiced then, techniques of bloodletting, leeches, and ridiculous bird masks, it is all quite irrational."
---
Mireya Contreras
Irrational Technology
Pen & ink
Durant High School
Grade: 9
Teacher: Emily Godheim
"When making this piece, I was inspired by the surrealist artist Salvador Dalí. From this piece, I learned that surrealism is a lot harder than it looks, as I had a hard time coming up with an idea to match the theme. When drawing this piece, I thought about how technology is practically glued to our faces and how the piece is a glance into our future."
---
Brooks Fetterhoff
Pokie-Pine
Pencil
Durant High School
Grade: 10
Teacher: Aaron Bowers
"For this 2020 Dalí art contest, I chose to use a porcupine and medical grade hypodermic needles. I was inspired to create this piece because of the growing problem of our used trash becoming a serious problem to the wildlife. When it came to irrational technology, I chose to incorporate medical technology by using the syringes. This artwork means a lot to me because of my love for the wildlife."
---
Sara Goldscheiderova
Roomba Cat
Colored pencil & pencil
Durant High School
Grade: 11
Teacher: Emily Godheim
"My inspiration came from the way people treat their technology with such love and care, as if it was a living being and sometimes even better. Hence I combined a cat with a Roomba to show that new inventions might soon replace usual pets. I have lined the piece with a thin black marker and colored it with colored pencils."
---
Audriana Medina
Artificial Productivity
Marker & colored pencil
Durant High School
Grade: 11
Teacher: Emily Godheim
"What inspired me to draw this was my love of grotesque art, along with the theme of the contest. This piece is important to me because it's the type of future that I want to stray from. My method of figuring out what to draw was to draw three ideas first. I started out with a lightbulb man in a fight, but I turned it into a creature."
---
Taylor Migliorini
The Sole Survivor
Colored pencil
Durant High School
Grade: 10
Teacher: Emily Godheim
"This piece represents how humans have taken advantage of our environment. The flower could be the last of its species or one of the last living things on Earth other than humans. I want to show how humans may start to use technology to try and save this plant now that it's almost extinct instead of using technology to keep the majority alive in the first place."
---
Emily Snook
Robot Horse
Colored pencil & ink pen
Durant High School
Grade: 9
Teacher: Emily Godheim
"The first thing that came to my mind when I heard the term 'irrational technology' was how much trust we put into our phones, whether it's to give us directions to get somewhere, or even count on an alarm. This piece shows just that– as the girl is blindfolded putting her trust into the robotic horse. My method for creating the work was using colored pencils to blend all the different colors together well."
---
Jacob Howell
The Four-Legged Automobile
Graphite
East Bay High School
Grade: 11
Teacher: Tiffany Ingham
"When I created this piece, I was inspired by how much technology had advanced and adapted to each new coming era. So I wondered where it may go in the future, but through they eyes and perspective of Dalí. What I believe makes it surreal is not only in concept, but in its composition and mixture of different shading techniques."
---
Jaydica Salgado
Life Lost in Technology
Copic marker & Micron pen
Freedom High School
Grade: 9
Teacher: D.J. Fintel
"What inspired me to do this piece was the fact that if technology was to fail, humanity wouldn't know how to function. I made a forbidden love scene between a girl with cancer and a half TV man. I would like society to become aware of the truth that the technology all around us won't be here to us."
---
Anjelo Rivera
The Choice
Markers & colored pencil
Jefferson High School
Grade: 12
Teacher: Michelle Turcan
"I was inspired by the surreal technology theme of the prompt to make a world where humans and automations can cooperate for a greater good. Throughout this piece, the bleak circumstances of our future is shown through a wasteland of Los Angeles. I chose to work with markers and colored pencils for a nice blended effect in my subject matter."
---
HONORABLE MENTION
Annie Dong
The Blind Leading the Blind
Pencil & ink pen
Leto High School
Grade: 12
Teacher: Jackie Lucas
"Society has acquired an unhealthy attachment to technology. This theme is shown throughout my piece beginning with the girl, whose eyes are displayed on the keyboard, to represent how blind and distracted we have become. I added roses, which symbolize feminine qualities and represent younger generations, particularly females, on how technology has influenced them to have unrealistic views on their outward appearance. The open chest and skull represent how it's killing us slowly with time and making us more detached from society, and more attached to our devices."
---
Mariah Eduarda de Marchi Costa
All Eyes on Us
Watercolor & ink pen
Leto High School
Grade: 12
Teacher: Jackie Lucas
"My piece illustrates a person with cameras implanted or growing from their skin as wires are connected into their body. I was influenced by the cameras of smartphones and how the recent ones have been designed on the new iPhone 11s. In a way, it also can reflect how people always seem to have people watching their every step on social media, which helped me to come up with the title of my piece."
---
Nha Nguyen
Man-Made
Ink pen
Leto High School
Grade: 12
Teacher: Jackie Lucas
"My piece represents how technology is harming our environment. This is represented by the man-made tree on the left in comparison to the natural tree on the right. On top of the natural tree sits a power plant, an example of modern technology. This can be shown in our everyday lives by the power plants that generate energy for us to fuel our homes. This causes pollution to enter the atmosphere which is not only damaging the environment but also humans because we reside in it."
---
Ana Bedolla
Under the Sea
Colored pencil
Plant City High School
Grade: 12
Teacher: Kiley Hingle
"I created a surrealist piece inspired by Salvador Dalí. I drew a giraffe because it is my favorite animal, so this animal represents me. I added a cell phone to represent a technology that we are all using all the time. I placed the giraffe in an underwater environment to show dislocation. I also drew the giraffe's neck bones on the phone screen to show how our true selves can be seen in our obsession with out phones."
---
Hannah Hansted
Heavenly Ships Sail Through Open Skies
India ink, watercolor & acrylic paint
H.B. Plant High School
Grade: 10
Teacher: William Rennenger
"My art piece relates to irrational technology by satisfying a curiosity I held for flying ships through the skies for a more exciting absurdity and lifestyle with adventure. I found myself wanting to encapsulate a regression in our advances of travel, extreme sizes easily flying away is a monumental feat, yet I believe due to the contrasting nature of humanity, adopting a facade of piracy shows reflection to past primitive technology. It also adds a sinister undercurrent where despite the majestic look, ships of such designs are known for naval wars, privacy, bloodshed in barbaric manners. It's very much me trying to create a pleasing image for myself yet play upon gaudy, golden pirate aesthetic to show irrational devolving uses for the future's tech."
---
HONORABLE MENTION
Ashley Harrop
Watching Me
Watercolor & pen
Plant High School
Grade: 10
Teacher: Brian Taylor
"I created this work from layers of watercolor and pens. The theme influenced me to use the idea of virtual reality technology in an irrational scenario. I decided to use babies as the subject matter and placed them in a dreamlike setting. One baby is real and the other is a product of VR technology. However, the once 'virtual' setting is taking over or becoming real which raises the question of rationality."
---
Liv Kober
Ethereal
Ink
H.B. Plant High School
Grade: 11
Teacher: Josepine Johnson
"The absence of someone dear gave me the basis of my piece, and the exhibit's theme is well connected to how I first met this person. The piece connects to my own thoughts and emotions that at times feel surreal. Such feeling is executed in the piece through surrealist elements such as dreamlike colors as well as distorted levitating figures."
---
Kaylie Jackson
Selfie
Colored pencil
Plant City High School
Grade: 9
Teacher: Kiley Hingle
"I began this project by researching the surrealist art movement and popular surreal artists like Salvador Dalí and René Magritte. The project was made to present how society depends on the eyes of technology, but not their own. People believe that technology and other people shift and change on the internet rather than what is in real life."
---
HONORABLE MENTION
Nadia Pogribnichenko
Manufacturing Nature
Prismacolor pencil
Plant High School
Grade: 10
Teacher: Brian Taylor
"As technology has become more common in our everyday lives, we question the consequences. Could technology completely take over all aspects of life? We consider the idea human androids and artificial intelligence taking our places in the world. But will we create animals to replace extinct ones? And what effect would that have on Mother Nature? We as a society could recreate species, but what would be the ramifications of such technology?
---
Hailey Teasley
Waiting
Watercolor, Prismacolor pencil, & gel pen
Plant High School
Grade: 10
Teacher: Brian Taylor
"When I was brainstorming ideas for this piece, I didn't want to go the normal route that comes with 'irrational technology' (steampunk or futuristic). I wanted to do something different. I have a fascination with the 50s and its style, so I decided to make something that looks like the headshot of an actress mixed with a 50s ad. I also wanted the 'irrational technology' to be a subtle element in the piece. In a headshot, the viewer doesn't look at the actress's bracelet, they look at her."
---
Emily Reed
The Burning Koala
Acrylic paint
Plant City High School
Grade: 11
Teacher: Kiley Hingle
"I have created a surrealist-based art piece using the idea of transformation. I used acrylic paint to build my images and try to make it as real as possible. Australia was undergoing many forest fires and these fires have caused the koala species to go endangered. I created this piece to advocate for the koalas that have lost their lives. This is a tribute to them. The theme was irrational technology, so I used the consequence of the lighter to be my main focus. The flame from the lighter transforms into a tree that is on fire and a single koala hanging on for its life. My artwork is meant to make people understand what is happening in the world and to make them feel emotionally connected to the situation."
---
Claire Smith
Lady of the Lamp
Marker
---
Kristina Alexander
Overwhelmed
Acrylic paint, pencil & paper
Robinson High School
Grade: 11
Teacher: Mary Wilson
"Dalí's work has inspired me since I was introduced to it in middle school. Not only did it spark my passion for surrealism, but it also encouraged me to explore different techniques/styles in art. This piece is significant to me as it not only too a great amount of time/effort but it also reignited my passion for surrealism. This piece is representative of the overwhelming nature of the unconscious mind, especially Dalí's."
---
Sraddha Karthik
Stagnation
Watercolor, fineliner & pencil
Sickles High School
Grade: 9
Teacher: Susan Santell
"Technology is constantly evolving and transforming but my artwork focuses on an era when technological evolution lies stagnant, and the past, present, and future of the advancements of humanity blend together in a chaotic cacophony of color and light. My artwork expresses an irreversible disinclination in regard to technological progression and is meant to give the distinct impression that the ambition of humanity will be its greatest regret."
---
Victoria Marquez
Is This the World We Created?
Watercolor & colored pencil
Sickles High School
Grade: 9
Teacher: Susan Santell
"Since the theme of the contest is 'Irrational Technology,' I decided to make an artwork based on the current crisis where more and more humans are getting addicted to technology ('becoming their devices'). Here you can see the famous and influential inventors Thomas Edison, Alexander Graham Bell, and Allan Turing (right to left) turning into their inventions (lightbulb, phone, computer) as we are doing with our smartphones and video-game consoles. I'm sure that if the founding fathers of technology found out about our technology addictions, I bet they would be left wondering, 'is this the world we created?'"
---
Zarin Zeba
Corrupted Creativity
Prismacolor, ink & watercolor
Sickles School
Grade: 10
Teacher: Eric Milan
"This artwork of mine shows the sublime and corruption of technology. The light bulb is man's creativity, which are what the abstract shapes are the production of. There is an error within the center part of creativity, which explains the misspelled word 'erorr.' The laser points to the error."
---
Muiz Abimbola
Absorption
Colored pencil
Spoto High School
Grade: 12
Teacher: Valerie DeLuca
"My artwork demonstrates how the use of social media can ruin a person. A symbol that I used in my work is the use of apps sucking up the structure of someone's psyche. The explosion on the third person is like how you get overwhelmed by drama and how it affects your social life. It is good to use apps (it can help you grow), but too much use can cause you to overflow and implode on yourself, leaving you an empty husk of your previous self."
---
Gabriela Fernandez
Alexa
Watercolor (dry) & Micron pen
Soto High School
Grade: 12
Teacher: Valerie DeLuca
"This artwork is based off how social media has affected the people around me: displaying completely new personas and projecting different expressions of emotions. I used watercolor for its transparent quality, showing the presence of online personas that are layers onto a person's real-life struggles. I used surrealist techniques of displacement and symbolism to demonstrate how we hide behind technology and don't show the real world our true self."
---
Danielle O'Neill
Scyphozoa Swing
Watercolor, Micron pen & gel pen
Spoto High School
Grade: 12
Teacher: Valerie DeLuca
"My artwork was inspired by the very popular event, the Florida State Fair. I never understood why the fair was so popular–machines that spin you around didn't seem like fun to me. I went to the fair with one of my friends and I thought that the swing ride sort of looked like jellyfish. I thought it would be fun to turn this odd machine into one of my favorite animals. I decided to use a few different surrealist elements like: displacement of the fair ride in the ocean, scale of the jellyfish compared to the whale, and the metamorphosis of the jellyfish into the swing ride."
---
AWARD of MERIT
Sarah Boyd
Dream Projector
Watercolor, acrylic paint & pen
Steinbrenner High School
Grade: 11
Teacher: Ellison Miller
"This piece is inspired by Dalí's creative process. He would force himself into a state between sleep and consciousness so he would tap into his dreams for inspiration. The drawing depicts him using a machine which would project and record people's dreams."
---
Kaleighia Engman
Social Life
Ink & water soluble graphite pencils
Steinbrenner High School
Grade: 11
Teacher: Ellison Miller
"My piece is Social Life. It depicts 3 humanlike forms with smartphones latching on to their faces. The phones are sucking the life out of their hosts, draining their energy. I created this piece to show how society is attached to their phones and technology to an unhealthy extent. It shows how people's lives are wasted away in their technology."
---
Zoë Hunter
Who's Watching Who?
Alcohol based markers & fineliner
Steinbrenner High School
Grade: 12
Teacher: Ellison Miller
"My artwork is focused on the theme of 'Irrational Technology,' connecting the human desire to create with the desire to improve. The TV was a major culture changer, having gone from non-existent into every house in less than 100 years. Now, generations later, technological advances have gone beyond the TV screen and into the medical field. TV has been watched with human eyes for years but what would happen when technology makes our eyes the TV?"
---
Katherine Stone
Consumed
Watercolor & ink pen
Steinbrenner High School
Grade: 12
Teacher: Kristin Watkinson
"For my piece I twisted the idea of Irrational Technology to showcase the negative side of the technology that is abundant in our every day lives. I was inspired by the phrase 'glued to your phone,' and I conveyed it in a world where the people are so consumed in their technology that they don't notice the chaos ensuing around them. I used the surreal techniques of metamorphosis, transformation, dreamlike setting, symbolism and scale."
---
Nicole Gray
Paranoia Through the Internet
Graphite
Strawberry Crest High School
Grade: 10
Teacher: Barbara Lawton
"My piece is based on the idea of viruses and malware, and the sense of paranoia it brings. I am always paranoid about getting a virus, getting my information, or have someone watching me behind the screen without me even knowing. To show this sense of eeriness and paranoia, I drew a man in an apartment building that looks abandoned with an outdated computer. The computer screen has eyes to give the meaning of someone watching you. There are also worms and bugs to represent the malware and viruses with some of these bugs crawling onto him. The man has a hole in his stomach, a way to show a feeling of nervousness or anxiety."
---
Louis Keel
Frick
Watercolor, ink crayon, ink & Photoshop
Strawberry Crest High School
Grade: 12
Teacher: Barbara Lawton
"This piece is meant to express my habits of overthinking and becoming panicked. The most irrational technology is the anxious brain. The wires connecting to the brain are like roots as they are natural but overwhelming. Observing sight as represented with the burst of eye. A glitch effect was added to the lines and the white lines resembling copper wiring of a motherboard is meant to draw back to the technology. To reference anxiety, the head is cut off like a chicken and the sporadic red splashes of ink are mean to represent a clouded and violent mindset."
---
Meghna Nandam
Electrophile Cityscape
Mixed media
Strawberry Crest High School
Grade: 12
Teacher: Barbara Lawton
"I wanted to explore the internet in an abstract sense, so I created a landscape that is characterized by bright colors. I always found it interesting that the perception of the world is different now that cellphones are a thing. I also wanted to move away from a particular stance about the internet which is why the piece depicts a dreamlike landscape. I decided to just get the euphoria of the internet and how people perceive it when they think of the concept of it–which is that it's plain sweet."
---
Johanna Kunz
Corrupted Culture
College, graphite & acrylic paint
Tampa Preparatory School
Grade: 9
Teacher: Martha DeAmbrose
"In this piece, I experimented with variety and texture while making my point heard. The collaged background represents the beauty in this world: our culture, dreams, and accomplishments. In the center of the image lies two bionic "marionette-esque" hands manipulating everything we know. In this era, technology is taking over. This piece is trying to remind everyone that we are missing so many beautiful things… we just have to lift our eyes from our screens."
---