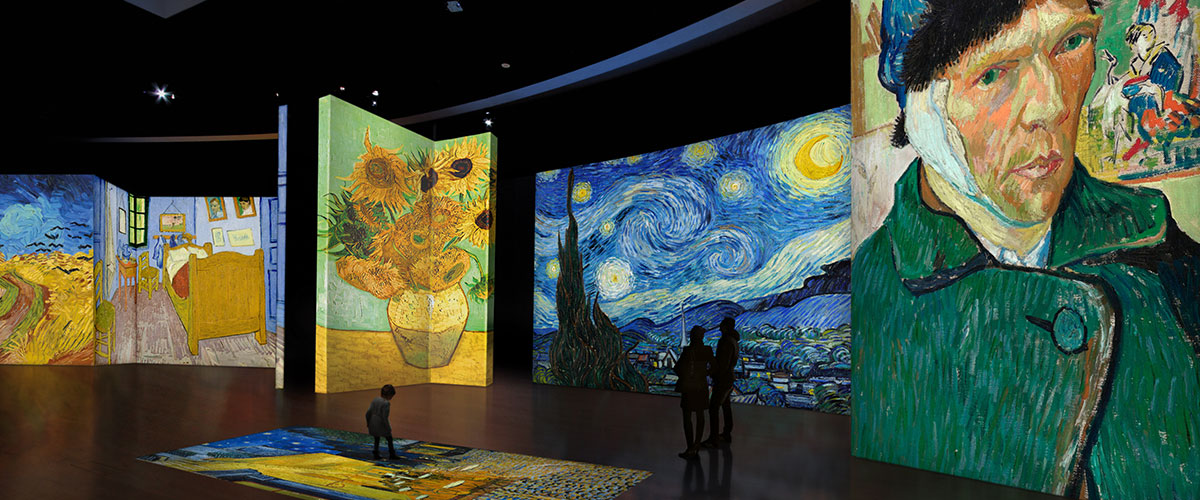 lecture: history of interactivity in art
January 28, 2021
@
6:00pm
–
7:00pm
In conjunction with our special exhibition Van Gogh Alive, the Museum presents a special lecture by George Fifield, founder and director of Boston Cyberarts, Inc. As an expert on the intersection of arts and technology, Fifield's talk will offer a valuable historical perspective on the ways technology has impacted the history of art.
In this art historical overview, we answer a seemingly simple question. At the end of the 19th Century, everybody understood that the artist, whether painter, poet or composer, made the entire work of art and the audience was a passive observer. At the end of the 20th Century, much of the contemporary art experience was a collaboration between the artist and the audience. In digital literature, web art, virtual reality, interactive installations, even in the popular art form of computer gaming, the audience had the ability to control their experience within the work. Visitors to a work of interactive art choose the path they take through it, giving them a hand in determining their own experience. New environments grow from simple and branching hyperlinked structures to become complex dynamic systems, virtual worlds in which people engage with their surroundings and with one another. The interactive artist has voluntarily relinquished a degree of control over the viewer's experience in a way that the previous artists have not. The introduction of digital technology as an art medium has resulted in an explosion of the artistic exploration of interactivity. But not all digital art is interactive and not all interactive art is digital. 
Visit our YouTube channel to stream this event.
---
George Fifield is the founding director of Boston Cyberarts, Inc., a nonprofit arts organization, which programs numerous art and technology projects, including Art on the Marquee on a large public LED screen in front of the South Boston Convention Center and running the Boston Cyberarts Gallery in Jamaica Plain. The Boston Cyberarts Festival (1999-2011) was an international biennial Festival of artists working in new technologies involves exhibitions of visual arts; music, dance, and theatrical performances; film and video presentations and symposia throughout Greater Boston. He is an independent curator of New Media with numerous projects here and abroad. For thirteen years until 2006, Fifield was Curator of New Media at the DeCordova Sculpture park and Museum in Lincoln, MA. He was executive co-producer for The Electronic Canvas, an hour-long documentary on the history of the media arts that aired on PBS in 2000. Fifield writes on a variety of media, technology and art topics for numerous publications.  In 2006, the International Association of Art Critics (AICA) Boston Chapter honored Fifield with the First Annual Special Award for Distinguished Contribution to the Arts Community. In 2007 the Boston Cyberarts Festival was the recipient of the Commonwealth Award in the category of Creative Economy.
Photo Credit: Chehalis Hegner
---
Related Events