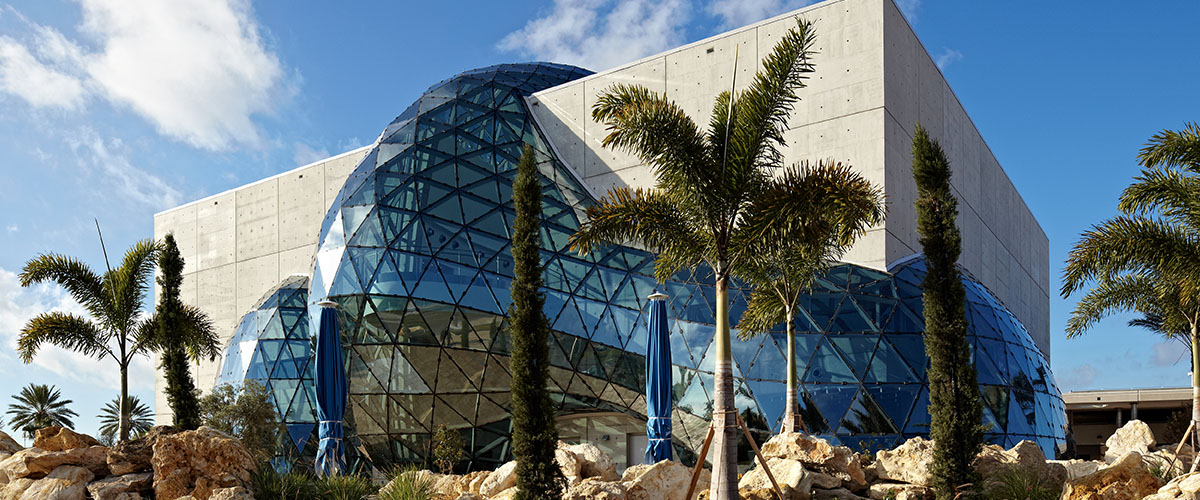 A Conversation on Architecture & Community
January 11, 2021
@
6:00pm
–
7:00pm
the dalí museum's 10th building anniversary: a scholarly conversation on architecture and community
As part of our celebration of our building's 10th anniversary, we invite you to join us for a scholarly conversation between Robert MacLeod and Josue Robles, professors in the University of South Florida's School of Architecture & Community Design. MacLeod and Robles will delve into the complex ways architectural structures shape communities.
Registration for this event is full. All registrants will be sent a link to stream the conversation, followed by a Q&A.
---
Robert M. MacLeod, AIA, is a Professor and Director of the University of South Florida's School of Architecture & Community Design. Professor MacLeod's academic research focuses on urban design and community planning issues within the "unfinished project" of the contemporary city, public space infrastructure, conditions of suburban sprawl, and redevelopment strategies for abandoned commercial centers and edges.
As an educator, Professor MacLeod's teaching and pedagogical development efforts have received several awards. He has presented papers and exhibited design/research work at numerous academic and professional venues. Professor MacLeod is a licensed architect and member of the American Institute of Architects (AIA). He has worked with award-winning architectural offices in Boston and Orlando and in his own practice, Sanders MacLeod Studio, on a wide range of buildings including residential, commercial, public works, office, educational, and medical projects.
He is the recipient of the Medal of Honor and The President's Award of Excellent from the AIA Tampa Bay. He co-edited Paul Robinson: Form of Absence, a catalogue of works by artist Paul Robinson and Craft & Context, the first publication of student work from the SACD.
---
Josue Robles Caraballo, a faculty and research associate with the USF School of Architecture and Community Design. Josue received a Masters in Architecture from University of South Florida and graduated with a Masters in Building and Urban Design Development from the Bartlett, University College London. Since, Robles Caraballo has been employed as an architectural designer by Mesh Architecture, Halflants + Pichette, Studio for Modern Architecture, Thinking Development London, and SchenkelSchultz Architecture assisting in several housing, public, education, and civic projects.
At SACD, he serves as the Co-Director of the Urban and Community Design master's program. Josue has conducted urban and community development research projects for St Petersburg's Planning & Development Department, Aberdeen's City Council in Scotland, Florida Home Partnership. Critically confronting socio-spatial challenges of local and international communities, while illustrating the cultural capital of communities in route of development. In parallel, Josue has taught architectural and urban design studios in London, Aberdeen, Bogota, San Juan, Denver, Chicago, Merida, St. Petersburg and Tampa. Robles Caraballo's graduate studios challenge current design practices, while inducing regenerative and enabling design solutions for the built environment. He has also taught urban activation design-build studios for the Tampa Housing Authority, Tampa Bay AIA, New Life Village, and Gobioff Foundation. Installations have been featured in St. Petersburg's Museum of Fine Arts, Straub Park, Ybor City, and Encore District in Tampa. In addition, Robles Caraballo has directed Sponsored Affordable Housing Design Projects for Escambia Finance Housing Authority, Florida Home Partnership, and Celebrate Outreach. Sponsored research focusses in attainable, equitable, and socially enabling homes along the states of Florida.
---
Related Events